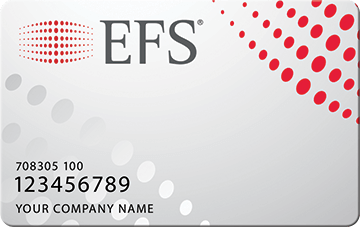 The standard for security, control, and so much more
EFS fuel cards set the standard for security and control — with solutions customized to your exact needs, and integrated seamlessly with your systems.

Accepted at 12,000+ truck stops across North America

Best-in-class purchases and financial controls


Superior authorization and fraud prevention tools


Real-time online account reconciliation


Seamless integration with leading third-party-software

Cash advances and ATM access/withdrawal
Enjoy full control and security over fuel and cash
Set purchase limits in real-time, down to the individual card level. Use custom card prompts to validate purchases at the point of sale. Consolidate transactions on a single platform, giving you one place to manage purchases, driver pay, settlement, cash advances, and more.
Get the power, convenience, and security your fleet deserves
Included with the EFS Fleet Card